YHS 2009 ALL-CLASS REUNION
JULY 10-12 San Antonio, Texas
Radisson Hotel San Antonio Downtown Market Square
502 West Durango , San Antonio Texas 78207 , US Reservations: (888) 333-3333Telephone: (210) 224-7155 Fax: (210) 224-9130, The rates are $89.00 per night, Rooms are blocked until June 1st at this rate. It is under Yokota High School Reunion via Phone Reservation Toll free 888-333-3333, or online use Group Code: YOKOTA
REGISTRATION HAS STARTED. Register at the "Panthers On-Line Store", click on PRODUCTS LIST (at the top navigation bar) then click on "2009R YHS All-Class Reunion"(at the bottom of the list). Also sign-up for Players to play in the football game has begun. Also see the On-Line store for registration.
Coach Pujol (current YHS head Football coach) and Coach Dave Morris (YHS First Head Football Coach from 73-78 and the start of the Panthers Football winning tradition) are making plans to attend the Reunion and coach each team. Coach Pujol will be making the plans around his family visit to Texas.
THE REUNION WILL TAKE PLACE JULY 10th - 12th.
MIXER IS FRIDAY NIGHT 8:00 PM ON THE RIVER WALK, Howl at The Moon, patio area, cover at the door.
NOTE: CHANGE OF LOCATION AND TIME for Football Game.
SATURDAY BLUE & GOLD FOOTBALL GAME AT Brooks City Base 9:00 AM, FOLLOWED BY LUNCH MIXER.
SATURDAY NIGHT DINNER (CASUAL DRESS) TO INCLUDE: GYOZA, YAKISOBA AND CURRY BEEF, cash bar, DJ, DVD PRESENTATION, YEARBOOKS AND MORE, Place: Hermman Sons Ballroom, 525 South St. Mary's Street. 7:00 pm - Midnight.
SINCE THE HUGE SUCCESS AND PARTICIPATION OF THE ALUMNI BASKETBALL GAME, THE NEXT REUNION WILL HAVE A BLUE AND GOLD FOOTBALL GAME. ELEVEN ON ELEVEN (FLAG), ALL FORMER YOKOTA JV AND VARSITY PLAYERS ARE ENCOURAGED TO SIGN-UP TO PLAY, BUT IS NOT LIMITED TO JUST FORMER PLAYERS.. EACH PLAYER WILL PAY $35.00 FOR THEIR GAME JERSEY, SHORTS AND SOCKS.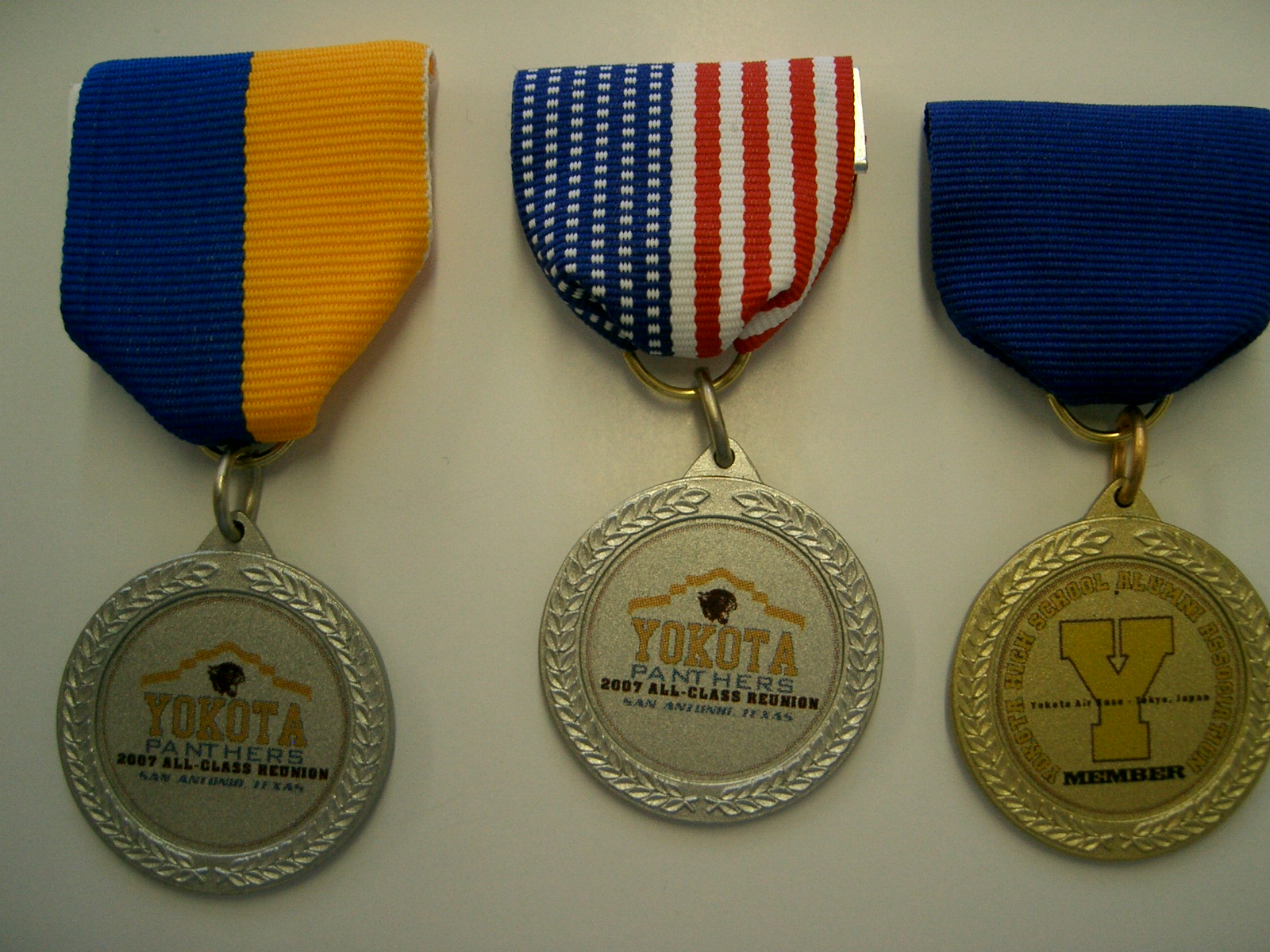 ABOVE ARE THE 2007 REUNION MEDALS THAT ALL ATTENDEES RECEIVED, THE US FLAG DRAPE WAS GIVEN TO ALUMNI WHO HAVE SERVED IN THE ARMED FORCES. TO THE RIGHT IS ALUMNI ASSOCIATION MEMBERS MEDAL. BELOW IS THE 2007 REUNION T-SHIRT WHICH ALL ATTENDEES RECEIVED AS PART OF THEIR REGISTRATION. ATTENDEES ALSO RECEIVED A GOODY BAG WITH YHS STICKERS, PENCIL, JAPANESE CANDIES AND DRINK, and LOOK BACK AT YOKOTA DVD.
Registered to Attend:
Cathy Dominguez '76 & Guest
Chris Dominguez '78 & Guest
Mark Lee '78 & Guest
Gordon Lee '77 & Guest
Robert Lee '81 & Guest
William "Bill" Lee '79 & Guest
Mike Strickland '77
Arlene Bardo '81
Coach Dave Morris (1973-78)
Patti Jolly '77
David Smoak '76
Kimberly Ginter '80
Sharen Killam '76
Edward Armor '78
Mike Miles '78
Cindy Fleming '78
Liz Mendenhall '81
Carl "David" Mendenhall '81
Geri Mendenhall '78
Janis Edralin '95
Jeanne Conger '79
Steve Vandenbusch '76
Thomas Straub '79
Derek Brown '77
Cindy Shirley '77
John Berry '78
Tim Quast '79
Linda Larson '79
Kevin John '77
Kellie Yost '79
Kim Yost '77
Rose Manuel '78
Irene Stapleton-Lee, '88
Russell Olds '82
Mika Stapleton-Stowers '87
Jose Rozier '79
Eric Killam '78
Heather Ivey '99
Stephone Neely '80
Gaye Saunders '78
Anna Rae Bruess '76
Marty Dubose '76
Charles Burton '77
Mikki Levi '00
Alfred "Chuckie" Jones '79
Natalie Franklin-Brown '77
Le Roy Evans III '75
JoAnna Sandoval '76
James Sandoval '75
Bridget Ellis '00
Doris Snyder '76
Ron Powell '76
Douglas Frye '78
Dale Larson '76
Robert "Bob" Sims '76
Kenny Elder '77
Derrick Elder '78
Richard Brown '78
Diana Torres '77
Beverly Pennie '77
Sandy Dresser '78
Sharon Dresser '77
John Sandoval '79
Tinker Robertson '78
Pat Robertson '79
Valerie Stinnett '75
Annette Sheldon '78
Sue Vanden Busch '77
Laura Marano '77
Melissa Mackey '99
Ruth Ann Hultman '99
Donald Kingery '78
Shirley Barstad '75
Verdi Hodo '74
Cynthia Ray-Hodo '77
Blue/Gold Football Game Registered

| | |
| --- | --- |
| | |
| | |
| | |
| | |
| | |
| | |
| | |
| | |
| | |
| | |
| | |
| | |
| | |
| | |
| | |
| | |
| | |
| | |
| | |
| | |
PLEASE CONTACT ME WITH ANY QUESTIONS OR CONCERNS:
WILLIAMLEE@YOKOTAPANTHERS.COM